A Year in a Machine Learning Agency: It has been an exciting year for T-DAB.AI as we continue to grow and evolve as a business, so I thought I would share what a year in T-DAB looked like. As with many start-ups, our team are often wearing multiple hats and pushed well outside of their comfort zone. So importantly, my first point of call is to say thank you to the amazing team we have and for their continued hard work and commitment to our growth.
We're constantly looking at what we can improve; how to better support our customers, how to build the right team and continue to grow the business and the input and feedback from all members of the team and our clients is invaluable to ensure we grow with the right ethos.
So, as the year comes to a close, it's the perfect time to reflect on 2019…
Change of Message
We changed our messaging to be the data science and engineering innovation agency and updated our proposition by combining the best of academic innovation and rigour, with value-driven commercial pragmatism.
We found that we were trying to serve an ambiguous market term in Machine Learning (ML) and Artificial Intelligence (AI) with an ambiguous framework, and as a specialist machine learning agency, we needed to change this to reflect our effort to bring clarity and improve adoption of data technology.
By reflecting on common patterns of activity with our customers, identify the challenges they faced and importantly, taking their feedback on board, our Machine Learning Transformation Framework was borne.
It provides our customers with a low-risk approach to exploring their data science and machine learning requirements. It also paves a clear development roadmap with timescales, costs and delivery standards, and we're looking forward to continued success in 2020. Thank you to all those who contributed.
Launching our R&D practice
Alongside our change of messaging was also the launch of our Research & Development practice, which houses our innovation and experimental projects. It provides us with the opportunity to work on challenges and initiatives from across the industry and work in collaboration as a machine learning agency with partners to develop intelligent solutions.
This year's flagship project has been in collaboration with Jack Trigger Racing to develop an Industrial Automation Solution for Teaching AI to Sail, and Digital Twin of the Man & Machine, which culminated in being selected for the Innovation track at IOTSWC 19 in Barcelona.
You can read more about here, which has involved Jack and his team, Wiscont, Microsoft and NKE. It also included the great team from Imperial College, including our very own Roman Kastusik, and we're looking forward to continuing our collaboration with them into next year and opening up the practice to more submissions. You can currently submit challenges, suggestions and proposals via our contact us page.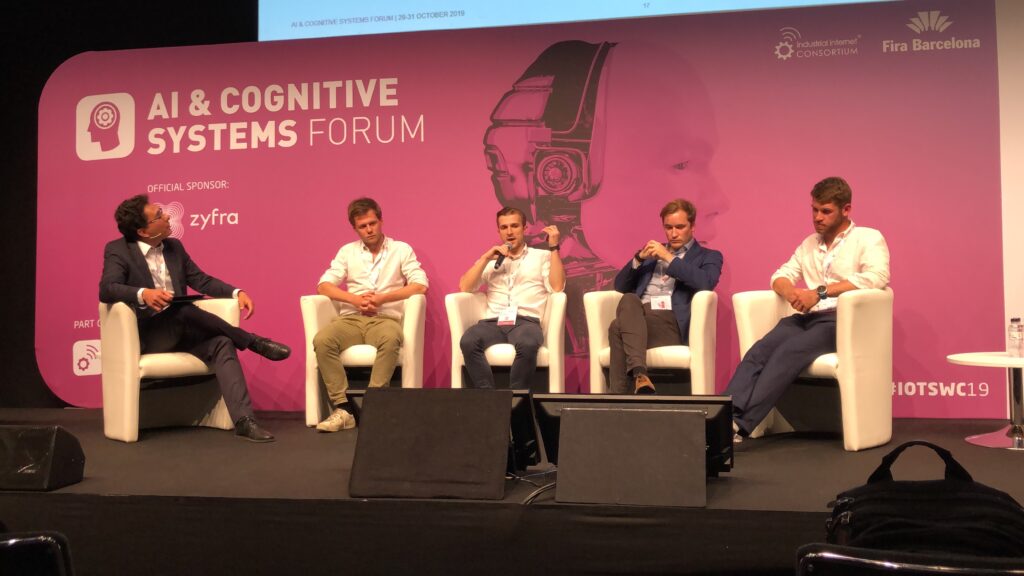 Spreading Innovation
Continuing with the themes of messaging and innovation, this year's event programme has provided us with great opportunities to spread the message of innovation. From hosting interactive client workshops to help businesses understand how to approach and utilise machine learning, to speaking on the world stage about the benefits of machine learning with cloud and IoT technologies. The year has been packed with exciting discussions and opportunities in machine learning and it's been encouraging, as a machine learning agency, to see the market shift further forwards in adoption.
We'll be updating our 2020 events calendar over the next few weeks so be sure to check out where we'll be and when, connect with the team to find out more about the offers and opportunities, or register for our workshop programmes.
Partners and Growth 
Our partner ecosystem plays a big part in our success, so it's important for us to say thank you to our partners – it's been an exciting year with lots of different projects and we're looking forward to continued collaboration into 2020.
From proposition and projects to presentation and partners, the underlying component is people. So along with our new messaging, it's been great to add new members to the team to continue our growth. Earlier in the year, we welcomed Roman to the data science practice following his successes on the Sailing AI project, followed by Eugenio and Emelie, and we're looking forward to adding to the team in the New Year. If you're interested in a position, get in touch!
We also moved offices to accommodate the new team so make sure to come and visit us before we move again!
Until then, enjoy your Christmas break and have a fantastic New Year!